Choosing a unique engagement is how you express your personality and individuality. It can be overwhelming to choose an everyday statement piece that embodies exactly who you are as a person and in your relationship. Knowing a few elements about what differentiates one engagement ring from another is key to finding a ring that will suit your personal style and stand out from all the others.
Be all about the band
Many rings are made even more beautiful with a unique foundation. You can choose an engraved band for a hand-crafted look that gives a nod to vintage style or a marquise band with distinct art deco appeal. There's also, the always eye-catching, ribbon bands that give the ring an unexpected shape and make a smaller center gem look more dramatic.
Tacori is known for its patented band design, which features crescent shapes and diamonds on the profile of the ring. A band with an ornamented profile allows your ring to be noticed from all angles.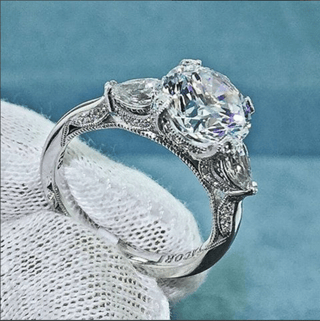 Go for color
A pop of color is a sure way to get heads to turn. Whether it's with colored gems or metals like rose and yellow gold, your ring will certainly stand out from any other diamond engagement ring out there.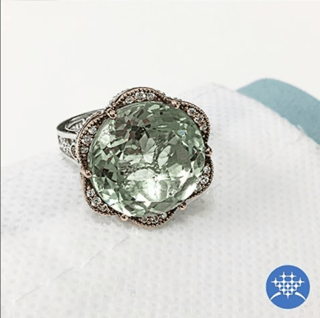 Try a fancy diamond shape
The cut of your diamond can change the look and feel of your ring completely. Fancy shapes are immediately noticeable because they are, for the most part, less common than round-cut diamonds.
Making a statement with a fancy shape doesn't have to be based on shape alone. Many brides giving a new take on the fancy diamonds by changing their layout. For instance, flipping an oval cut 90 degrees so it lays horizontal rather than vertical. This not-so-subtle adjustment is what can take a ring from interesting to inspiring.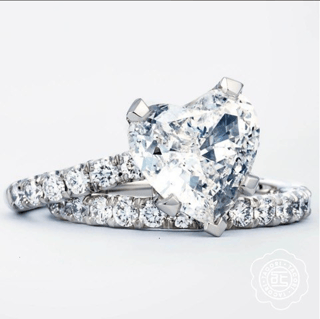 Make your diamond look bigger
Big diamonds naturally get the most attention, but there are tricks to making a diamond seem bigger than it actually is. One of those tricks is adding a halo. A halo surrounding your center diamond will accentuate the sparkle and truly bring out the bling of the ring.
Choosing the right setting is also important for giving your ring the illusion of size. A pavé setting uses pieces of metal in between diamonds to hold the diamonds together, this can often give side diamonds more depth, making them appear larger.
A bezel set engagement ring has a rim of thin metal around the diamond, which can make the diamond look bigger. This type of setting is more contemporary than a prong setting.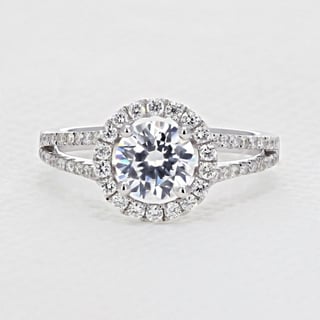 Ditch the center diamond
One the other hand, there is no rule that says an engagement ring has to feature a center stone at all. Some people find center gems impractical and are concerned about losing or damaging them. For those who are comfortable moving away from the traditional center diamond engagement ring, we recommend engagement bands studded with smaller stones. In case your worried about a single engagement band being too much of an understatement, the best part about it is it can be upgraded with stackable rings of different metals or gemstones that make it feel anything, but ordinary. Take inspiration from Audrey Hepburn, whose iconic interchangeable wedding rings have been a source of bridal envy for decades.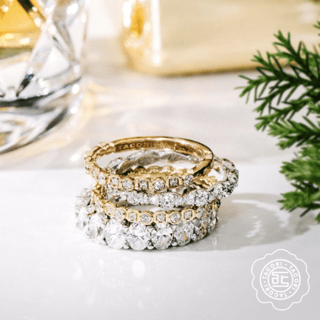 If you are looking for an engagement ring that is truly original, a custom design might be a good option for you. We work with our customers to create custom made rings that will stand out in a crowd.